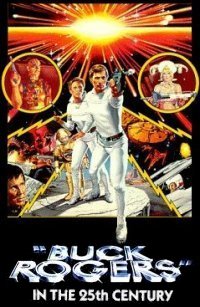 If New Chicago of the 25th century is a vision of our future, then perhaps we ALL should have died in the fiery atomic holocaust of the late 1980s.
Fortunately there has been no such catastrophe (knock on wood), NASA is still launching deep space probes, and no space shuttles with a crew of one were lost in space and frozen in 1987. So, perhaps our society won't still look like the late 1970s 500 years from now.
The blockbuster movie that later became the pilot for the TV series of the same name begins with a cheesy musical opening sequence. ("Who am I, what am I, why am I here?") In voiceover we learn that Captain Buck Rogers, the sole person aboard a space shuttle (Ranger III), encounters a cosmic storm in 1987 and is thrown into an orbit that doesn't return him to Earth for 500 years.
His ship is recovered by the Draconia, a ship from the enemy planet Draconia that is on its way to Earth under the guise of signing a peace treaty. In reality, the Draconians are secretly arriving to attack. They awaken Buck (Gil Gerard, in his best-known role) and assume he is a spy from Earth. Meanwhile, Buck believes he is on a Russian spacecraft and that it's still 1987. This despite the fact that he is on an enormous star cruiser and everyone looks Chinese. And, naturally, he becomes enamored with the highest-ranking person on the ship, Princess Ardala (Pamela Hensley, "The Nude Bomb").
Eventually they return Buck to Earth, secretly tracking him in an attempt to infiltrate Earth's defenses. It takes Buck a while to realize that times have changed, and this is probably hampered by the fact that women still wear skin-tight pantsuits and only have token roles in society, and that everyone still listens to disco and boogies the night away.
Buck of course immediately becomes enamored with Col. Wilma Deering (Erin Gray, TV's "Silver Spoons"), who despises and distrusts Buck and as a result becomes the butt of all of his sexist jokes. Aided/observed by two robots, Twiki (Mel Blanc of Warner Brothers fame) and Dr. Theopolis, basically a talking canteen with flashy lights (Howard F. Flynn, the narrator of "Three o'clock High"), Buck is accused of being a Draconian spy, put on trial in a court of talking canteens, and sentenced to death. (I guess it never occured to anyone to try the 490-year-old technology of DNA testing to determine whether Buck was human or Draconian.)
Needless to say Buck manages to escape death and, in a climactic battle that demonstrates how utterly moronic the people of the future are (regardless of their home planet), manages to save Earth.
"Buck Rogers in the 25th Century" is not an entirely bad movie, it's comical to watch and mildly interesting and entertaining. It is quite campy, though, especially for the inability of the screenwriters and set decorators to look beyond 1978 in creating a world of the future.
"BUCK ROGERS IN THE 25th CENTURY" * A GLEN A. LARSON Production * Starring GIL GERARD, PAMELA HENSLEY, ERIN GRAY, TIM O'CONNNOR and HENRY SILVA as Kane * Written by GLEN A. LARSON & LESLIE STEVENS * Executive Producer GLEN A. LARSON * Produced by RICHARD CAFFEY and LESLIE STEVENS * Music by STU PHILIPS * Directed by DANIEL HALLER * A UNIVERSAL PICTURE * © 1979 UNIVERSAL CITY STUDIOS, INC. ALL RIGHTS RESERVED.